March 15 and 17


Hello everyone!
After relaxing and discovering a different aspect of India in Kerala and Goa, it was time for us to take on the biggest of the Indian cities – Mumbai. According to our Bible, Lonely Planet, Mumbai is home to 16.4 MILLION people. That's double the population of London. Double the population of New York. Five times the population of my home country. All on an island, a fact that I didn't know before arriving, and a place where your luggage is flung onto the roof of a taxi, not strapped, and then driven around at as fast a speed as possible considering the volume of traffic.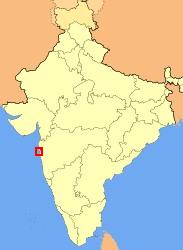 We've worked our way north over the past week, but this was the hottest place we have encountered so far. The air we are breathing in probably doesn't help. Mumbai is constantly shrouded in a dazzling, disturbing haze of smog and pollution, and the air is hot, steamy and sour on the lips.
The pollution was one aspect we were warned about before arriving in Mumbai. I've already mentioned the traffic, which certainly is extreme here. I don't know why they paint lines on the road. The constant honking that annoyed us during the first few days has turned into background noise, and I'm now very comfortable with my rickshaw driver racing through a gap with millimetres to spare on either side. The volume of traffic is difficult to fathom, yet it is rarely at a standstill, and no one gets truly irate with the delays.
Thinking about behaviour in the locals, I have often eulogised about the friendliness of Indian people, but saw a darker side whilst here. We can now add my phone to my wallet and suncream on the list of things I have had stolen on my trip. The most recent, my 99p phone with that horrible text tone, was taken from next to my bed whilst it was charging overnight.

It could have been worse on three fronts. Firstly, it could have been a half-decent phone. Secondly, I will no longer be the recipient of texts telling me that I have won Rs450,000, or that there is land for sale, or a job offer, or to give a precious give to my child. Finally, it wasn't anything I can't live without – the night before a French guy had his passport stolen from his pouch…that was hanging around his neck, and under his t-shirt.
This particular guy and I were in an internet café when he was trying to sort out photocopies for his second (Australian) passport. He left briefly, and then returned to pick up the copies to find that the café had made one for themselves, and were trying to make him pay for it. Lots of shouting and swearing from both sides ensued, before the Indian then told him he wouldn't give him his passport back unless he coughed up.
This particularly negative behaviour is rare here, though. We met some wonderful people on our boat to Elephanta Island, one of Mumbai's main attractions. This island boasts some wonderful ruins of old Hindu temples, the star being the three-headed Shiva, who represents the role of destroyer, creator and preserver of the universe. We were more interested in the monkeys fighting, though.
Mumbai is full of things to see and do. I will be returning to this metropolis to continue experiencing its sights and sounds. We also saw the Gateway of India, a monument created for the visit of King George V in 1911.
One thing you do see here is a significant military presence. Mumbai has a history of being targeted by terrorists. The most recent major attack happened on November 26, 2008, and we visited two of the sights associated with it. Our final drink before Chris left for home was in Leopold's, which was an early site of gunfire and grenade explosions during the attacks. We also went through the most security I've ever gone through to get into a hotel, the Taj. But what a hotel. Stunning. And only Rs18,000 for a room! Double my current finances, but we can dream. There is a memorial inside to the 26 people that died in this particular building.
There is a sense of unity within the city; something which pulls on the heartstrings and makes me feel an affinity with Mumbai. People, myself included, will sit on the same table as strangers when eating lunch. In this case it was a thali, and very nice too. People were very happy to talk to me, with one salesman decorating me for the upcoming Holi festival by smearing my head with pink powder.
I like Mumbai, and as I said before I will be returning. My hasty departure was to meet friends further south, so I will go to the slums at a later date; hopefully coinciding with England being in the World Cup final in the city. So back south I go, and after a long bus ride I will be in the IT capital of South Asia. You may think I've missed something out in this Mumbai blog – do not fret, it gets its own whole special segment next time.
Love you all
Matt