April 24-29
Hello everyone!


I'm approaching two months on this latest of my global adventures, and though I have experienced so much already I can't help feel that all I am doing is 'taking' from this marvellous country. I need to give something back. Noble, right? Well yes, but it's increasingly difficult to explain to a prospective employer a six-month gap on a CV with stories about chai, curry and camaraderie. With that in mind, I have signed my next three weeks away to be a volunteer in the northern mountain town of Dharamsala.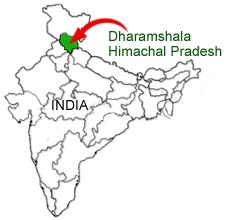 To get to the home of the Dalai Lama – you know him – is only possible by bus. I was given instructions by the volunteering company I am with to meet a guy called Vineet, who then took me to the bus. The 12-hour ride soon turned into a disaster, as yet again diarrhoea reared its ugly head. This, once again, is a running theme of this blog. A central theme, actually, as it resulted in me only completing one full day of work in my first week. And even that was after seven trips to the toilet in the morning.
Having survived the journey – I am eternally sorry to the owners of the garden I excreted in, it was a very low moment – we got off the bus soon after sunrise to a very pleasant surprise. Snow! Dharamsala sits below an area of the Great Himalayan Range called the Dhauladhars. I know that because I'm sitting high up in them as I write this, but that's for another time.
For the first two weeks I am the only volunteer at the iSPiiCE – standing for Integrated Social Programs in Indian Child Education – compound, but there are other people around. Two of them, Varun and Vineet, took me to some local sights on Monday. Our base in not in Dharamsala itself, but a few kilometres south in Sidhbari. The first place to see was a Tibetan temple at the Norbulingka Institute; a very colourful and peaceful place.
We then moved on to a Hindu temple, behind which was a beautiful river. The water was so clear and fresh – and I haven't seen clean water in so long – that its shimmering blueness looked almost fake. It was so invigorating to the touch, though pretty cold. It's important to note that I was OK on Monday – Imodium can be a devil times.
I was supposed to start work on Tuesday. That didn't happen, and nor did Wednesday. I'll spare you the details, but what I will tell you is what I will be doing here when my trapdoor closes. I will be working at two locations: a public school, and an area that seems to resemble a farm. In the school, I will teach two 45-minute English classes for to 13- and 14-year-olds. In the farm, I will host a combination of an English and computer class for 90 minutes to various ages. From my one full day so far, the youngest in 8, and the oldest 27.
I should have seen them long before the 10-minute introductions I did to each on Thursday. It has been so frustrating. Diarrhoea is one of those illnesses that is only cured by time, though that didn't stop the eccentric owner of our house, Ramesh, from making me try an alternative cure – onion juice. That's right. One onion, blended, and drank in one shot. The expression on my face was exactly what one would expect when they are forced to drink an entire onion. It worked on the first night; not the second.
So much of my week has been spent on the loo, interspersed with games of Uno, watching IPL and hearing Ramesh witter on about how much he hates America. He actually said he loves Bin Laden, which caused me to delay a toilet run for as much as I could in order to ask further questions. I then asked further questions after we found out he was killed a few days later. I can't thank Aoife, Varun and Vineet enough for their patience and care this week. I'm sure it has been just as frustrating for them, but they haven't shown a single sign of displeasure and have taken every precaution to make sure I am better.
I can't really talk about my actual work, simply because I've only done one full day. But next week I'm sure I can once again relay to you the joys of teaching. I've missed it, and it is great to once again be at the head of the classroom, with every move being intently watched by scores of wide eyes. I just hope they don't witness me dashing out to the toilet!
Love you all
Matt