July 8-9
Hello everyone!
Summertime in the UK is an exciting time for its population. Like many places in the world, the end of July and August are when people decide that they want to escape the monotony and perhaps depression of their jobs. It is summer holiday season.
There are certain destinations that are hotspots of British tourism. Any island off the Spanish coast or the Greek mainland is always a popular getaway for the 18-30 crowd, and families often escape to the Iberian peninsula to the scores of holiday resorts there. Though people's tastes are becoming increasingly exotic - I know friends who have recently gone to Morocco and Croatia for a short holiday - it is always a safe bet to think that Zante, Ibiza and the Algarve will be filled with drunken British lobsters.
Less commonly visited are the holiday destinations that were frequented in the days before cheap air travel and package holidays abroad. The domestic tourism industry has changed significantly in the last fifty years. One of the bedrocks of British holidays for previous generations were charming seaside resorts, and on this trip we decided to go back in time to frequent one of the more popular destinations - Weymouth.
I have been here before, but have no recollection of it. My mum has enjoyed telling anyone that will listen over the past month that Weymouth possesses the first beach that I would step on without kicking up a massive fuss. The 2011 version of the beach does indeed have soft, dreamy sand, and the sand has been used to create some very impressive sculptures. The problem with it is that the wind whips it across the beach from right to left, leaving you with a sandy body and a newspaper that is very difficult to read without pages blowing away. I sound like an old man.
Indeed, the tourist industry is very much alive and kicking ironically because of an age group which wouldn't generally fit in to that particular phrase. Possibly due to memories from a different era, there are a significant number of pensioners ambling along Weymouth's promenade or napping in the old-fashioned deckchairs. What they weren't doing was frantically pedalling along the chilly waves, like some people were in pedalos. I wanted to jump into the water, but there were speedboats manned by security men who would shout at you if you even looked like you were going to be that guy. Madness.
The sunshine, as well as staying for a weekend, meant that Weymouth seemed quite busy. There was a seafood festival in the harbour...which we discovered one hour after eating lunch. Not a big problem when you're in an area of England famed for its fish 'n' chips. The nice weather also allowed us to indulge in another traditional British beach snack - whippy ice cream. With the flake, of course.
The relative bustle of Weymouth contrasted significantly with the two places visited immediately before it. We left you last time standing close to Stonehenge. From there it is a short drive to the city of Salisbury, a place famous for its cathedral. The cathedral has the tallest church spire in the U.K., which itself is fascinating due to it being noticeably crooked in comparison to the rest of the complex.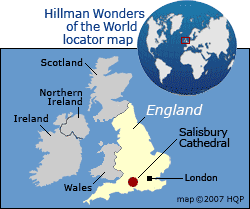 The cathedral also possesses one of the four remaining exemplifications of the original text of the 1215 Magna Carta, one of England's most famous Charters. Some of its clauses are still in effect today, such as the freedom of the English Church and a right to due process. It didn't include any references to scones, but they were a must in this traditional, quintessentially English city.
From there we drove down to the south coast to an amazing natural rock formation called Durdle Door. The rock has been eroded in a fairly unique way to create a natural limestone arch. It is a fascinating, incredible feature on a lovely stretch of the coast. Just a shame that so many people miss it, and British beach towns, to get their kicks on a rowdy Spanish coast.
Love you all
Matt