Day 17
Hello everyone!
'In terms of social and economic importance, the world EXPO is the third-largest event in the world, after the Olympics and the World Cup.'
'70 million people will visit the EXPO in Shanghai.'
Make no mistake folks, this thing is huge. I spent 12 hours at the site - many spend three or more days. I saw 22 pavilions in total, so will try to make this as concise as possible. Though that's not something I'm normally good at...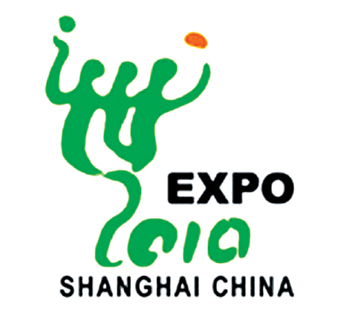 Upon getting through the gates at 9.30am I sprinted straight to...a water fountain. 36'C was the temperature they were announcing over the tannoy, and I'm not sure if this is worth dying for. The lines for each pavilion were rumoured to become quite large - and having seen the Saudi Arabian line at 9pm, I can believe that an 8 hour queue does exist - I opted to hit out the big European pavilions ASAP, before the lines became unbearable.
(1) Denmark - wait a minute, since when was the land of bacon a big gun? Since they brought the famous mermaid statue over, that's when. It's smaller than I thought - the rest of the pavilion was poor.
(2) France - a five minute queue allowed me to see a lot, including paintings by Frenchmen such as Millet, Monet...and Van Gogh?? And a funky robot.
(3) Spain - a lot of hype about this one, so I was glad for only a 20 minute line. Awesome video with sexy Spanish dancer in front of it. She pulled a fan from her cleavage, which was...artistic. No idea about the giant baby, though.
(4) Italy - my longest wait of the day, at 45 minutes. It was too much for some - two people behind me started fighting. Chinese people don't know how to queue. It was worth the wait - a Ferrari, Max Biaggi's bike, floating chairs and an orchestra sticking out of a wall. Never seen so many types of pasta in my life.
(5) Africa - many countries are too small to have their own pavilion, so are clumped together. Most of these were of little interest. Highlights were Burundi, which had awesome pottery and drums; Eritrea, a colourful pavilion with a giant camel (not real) and million-year-old skull (real); and Cameroon, which had a virtual penalty shootout machine. Scored one, missed one. Interesting drum show as well.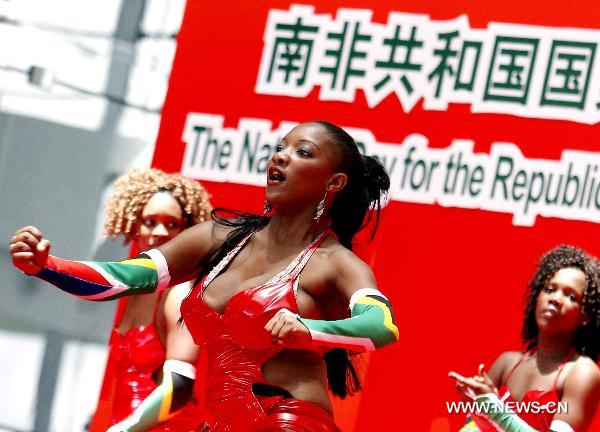 (6) South Africa and (7) Argentina were average so, after aborting any attempt to get into the USA pavilion, I headed for (8) Brazil. The fifteen minute line was fun and disgusting in equal measure - from a girl squatting in an empty, but very public, part of the line to a clown making balloons for people. But the inside, with great videos, touch screens and sports balls as the ceiling, was one of my favourites.
(9) Canada was good - I was going to go on the exercise bike but was interrupted by two exciteable girls wanting a picture with me - as was (10) Mexico, which was filled with artefacts and funny masks. Whilst there I got talking to a French family, and we headed for another pavilion with a lot of hype.
You can get into your own country's pavilion without queueing if you show your passport. I tried to get 'la famille' into the (11) UK pavilion on my ID, but no luck. They didn't miss anything. All it was was seeds in acrylic rods. At least I didn't queue. They also had an image of Cardiff's greenery - I insisted on the security guard taking the photo for me.
After speedily seeing the (12) Caribbean, (13) Croatia and (15) Slovenia, interspersed with an opera show in (14) Austria, I headed to the Asian zone. The line for (16) Australia moved quickly, and it was the most fun and vibrant pavilion I saw. There was a moving screen theatre show which was very impressive. We also got a great view of Lupu bridge, lit up like a rainbow bursting across the river.
From this point, time was against me. Decent pavilions were seen at (17) the Philippines and (18) Malaysia - the latter having excellent satay - before heading to my final important destination - (19) South Korea. The lines were huge for this all day, but I had a trick up my sleeve. Not a passport, but my ARC foreigner's card. And a smile. 'An-nyong-ha-se-yo', I say as I present my card. She says something back in Korean. I smile. She looks around, and then opens the fence! Well played, 매트.
Unlike Britain, the queue jump got me into a great pavilion. The design was slick, the girls looked like Korean Air stewardesses - a very good thing - and there was loads to see and do. More than (20) Uzbekistan and (21) Iran. The latter had a message from 'Dr Ahmedinijad, respected President', which made me chuckle.
Time for one more. What better way to finish than with...(22) North Korea! I quite liked it actually, good aesthetics. There was so much more I wanted to see. Some lines were obscene - I aborted attempts for Russia, India and the USA, and didn't even get to the Middle East. It is an exhausting day - there are so, so many people - but totally worth a visit. Two beers and out - and onto my final destination in the morning!
Love you all
Matt